It's time for Demi Vollering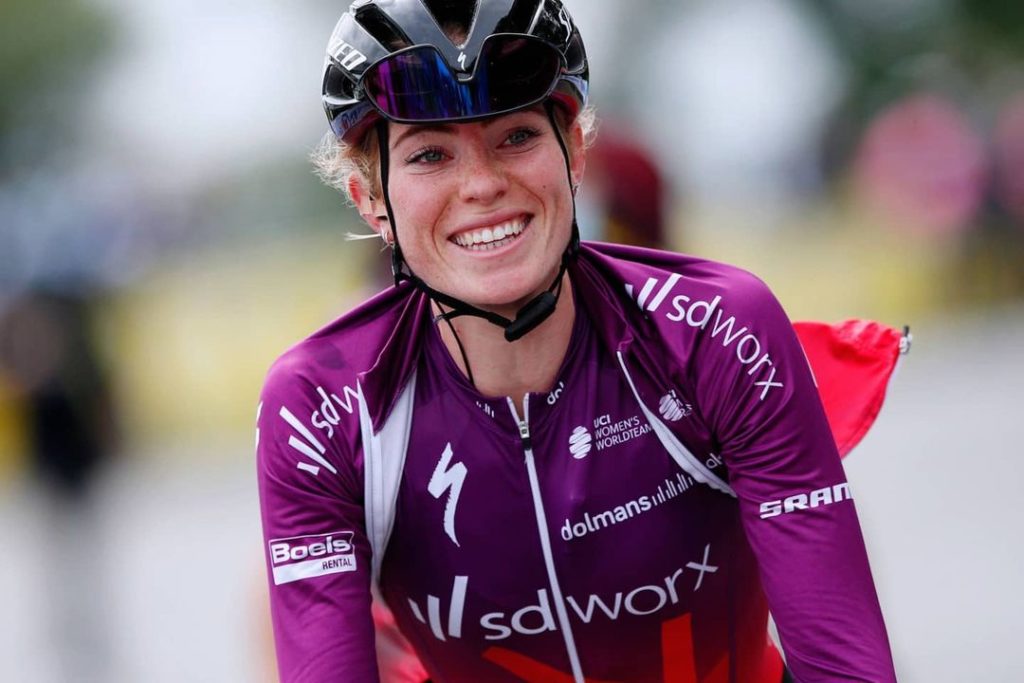 Interview with Demi Vollering 
Dutch cyclist Demi Vollering (Pijnacker 1996) is completing her first season in Team SD Worx, currently the best road team in The World according to the UCI ranking. This year with her new squad, Demi was able to score her first World Tour category wins in Liege-Bastogne-Liege and Le Course, which in 2022 will give way to the return of a Tour de France. A race in which our protagonist becomes one of her great favorites to the victory, as she has already shown with her great third place in the last Giro d'Italia Donne.
But her arrival at SD Worx maybe it would not have been possible, if Vollering had not passed through the Parkhotel Valkenburg, a modest team that has become a hotbed of top-level riders. In her ranks, in 2019, the cyclist from Pijnacker, surprised everyone with her performances in The Ardennes Tryptic, and especially her third place in Liege.
A few weeks later, Demi's first professional victory in Luxembourg would arrive during the Elsy Jacobs prologue, beating a great specialist such as the German Lisa Brennauer, who would round off at the end of the year at El Giro dell'Emilia.
Unfortunately for El Sterrato, we were unable to see Demi during La Ceratizit Challenge by la Vuelta and to greet her in person. The event was not on her calendar. Her preparation focused on the European Road Championships, where she was a key element of the Dutch team both in the bronze of the mixed relay and in the gold of her teammate Ellen van Dijk. On the other hand, we have been fortunate to contact Vollering through her manager and she has kindly answered a series of questions.
The beginnings:
El Sterrato: -How did you get started in cycling, since you were a child?
Demi Vollering: -"As a child, I always wanted to cycle, but in the beginning I was too small for a bike without the 2 side wheels. Still I managed it, to ride on the bigger bike. I was a bit of a stubborn child and if I wanted something I made sure, I was able to reach that goal! So cycling was from beginning there and from there on always there during my life. When I grow up as a kid, in the streets where we lived, we always rode our bikes together with other kids. The kids who lived in our street where all a bit older than me, so that made also that I learned to ride my bike quickly.
Later I did ? Dikkebandenraces? (races on normal school bikes). I loved it! When I was around the age of 12, I started riding by a tour club on a race bike. Every Sunday we did a long ride with a stop for a drink and an apple-pie. My nephew and cousins did races on race bikes and that is why I also wanted to do that. When I was 16 I started by a real cycling club"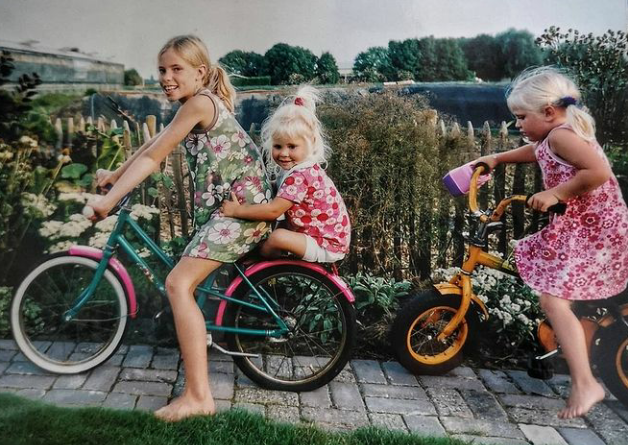 The step forward at the Parkhotel Valkenburg:
E.S: -What memories do you keep of your stay at the Parkhotel Valkenburg, the team that gave you the opportunity to get your first great UCI victory?
D.V: -"My memories at Parkhotel are super good! I had such a good time there and I still feel very blessed that the team and the staff believed so much in me, they still do. Still speak sometimes with the riders from Parkhotel. I can say that I made good friends there! Also the staff was always so helpful, and really believed in me, and the good part there was that it was always good. I never felt pressure. If I rode podium they were all so happy, but if I was not able to do that than they were still happy, also because it was super special for that team to stand on the big podiums! Also with the other riders I had such a good bond, they worked always so hard, even harder when they believed that I was able to win a race! That was always special because it was a young team and you saw everybody growing!"
E.S: – How was the step of leaving your job into the family business and focusing 100% on cycling and into the dream of being professional cyclist?
D.V: -"I stopped working slowly. In the beginning only 2 days less and then I only worked 2 days in a week , but it became difficult because I also wanted to have sometimes free to do a stage race or go to Switzerland where my boyfriend moved to that year. So than I decided to quick with my job as a florist in a flower shop, and also I stopped working for the company of my dad, he grows with my uncle flowers. In the beginning that I stopped it was a bit weird to sit down at home to relax and recover from my trainings, and to see everybody working hard at home. It was also a bit strange for my mom and dad, but they changed fast and always supported me 100% to chase my dreams! I didn't make money, so I was blessed to live at home, and I used the car from my parents to go to races or to Switzerland. Without my family, it was way more difficult".
The support from Jan:
E.S: -What does it mean to have a partner (Jan de Voogd) who understands the sacrifice of being a cyclist pro and all that it entails, such as spending many days of the year away from home?
D.V: -"It is sooo important to have someone next to you who really believes in you and always supports you. Jan was/is always there for me! If I was unsure about a race or if I doubted to come to Switzerland or to take some more rest by staying in Holland, what means I didn't come to him, he always says, do what is best for you, so take your rest, and then I will try to come next weekend to Holland. So, with all those small things you see it is important in the end. He was also the one who said to me to quit my job, and go for cycling. I am not sure if I was able to quit my job if I didn't had Jan who had my back.
He helps me with literally everything, he is also my manager, and that helps me a lot. I never have to worry about discussing my contracts, or whatever. He does that for me and it gives me the rest and confidence, because I know he wants the best for me, he wants that I have a team who fits the best by me, but also he makes sure I make money, because I don't want to be busy with that. I only want to ride my bike as hard as I can with a team around me who believes in me! And of course I also wants to be the best!"
The other training:
E.S: -We have seen you training in Switzerland, skiing and trekking. Are activities essential for your physical preparation in winter in The Alps?
D.V: -"Yes, I would say that the activities you name are essential! And not only in a physical way, but also in a mental way. On the physical part, the activities help me to build and maintain my basic endurance level. However, that's not the main reason I am doing these activities. Skiing is for example, for me a great way to be in the beautiful, fairy-tale white winter scene of the Alps. Most of the time I am ski touring, which means you walk up the mountain with a specific ski set-up. It is a very cool way to train physical and to relax mentally, in the mountains. Most of the time I am doing this activity with my boyfriend who lives in Switzerland and with our dog Flo.
E.S: -And what does "yoga" bring you?
D.V: -"Yoga became an important part during Covid-19 period. I tried it, and I loved it, before a did already a lot of stretching. I was used to do it because of my background in ice skating, there you always do a lot of stretching. But I wanted to learn more and I wanted to stretch deeper, so I started with yoga, since a year now. I do it every morning, sometimes 20 minutes, sometimes only 10, but it's so relaxed when you wake up, and the first thing you do is waking up slowly your whole body and mind. I think it is really important to take only 10 minutes to wake up easy and spend some time on your body and mind as first thing"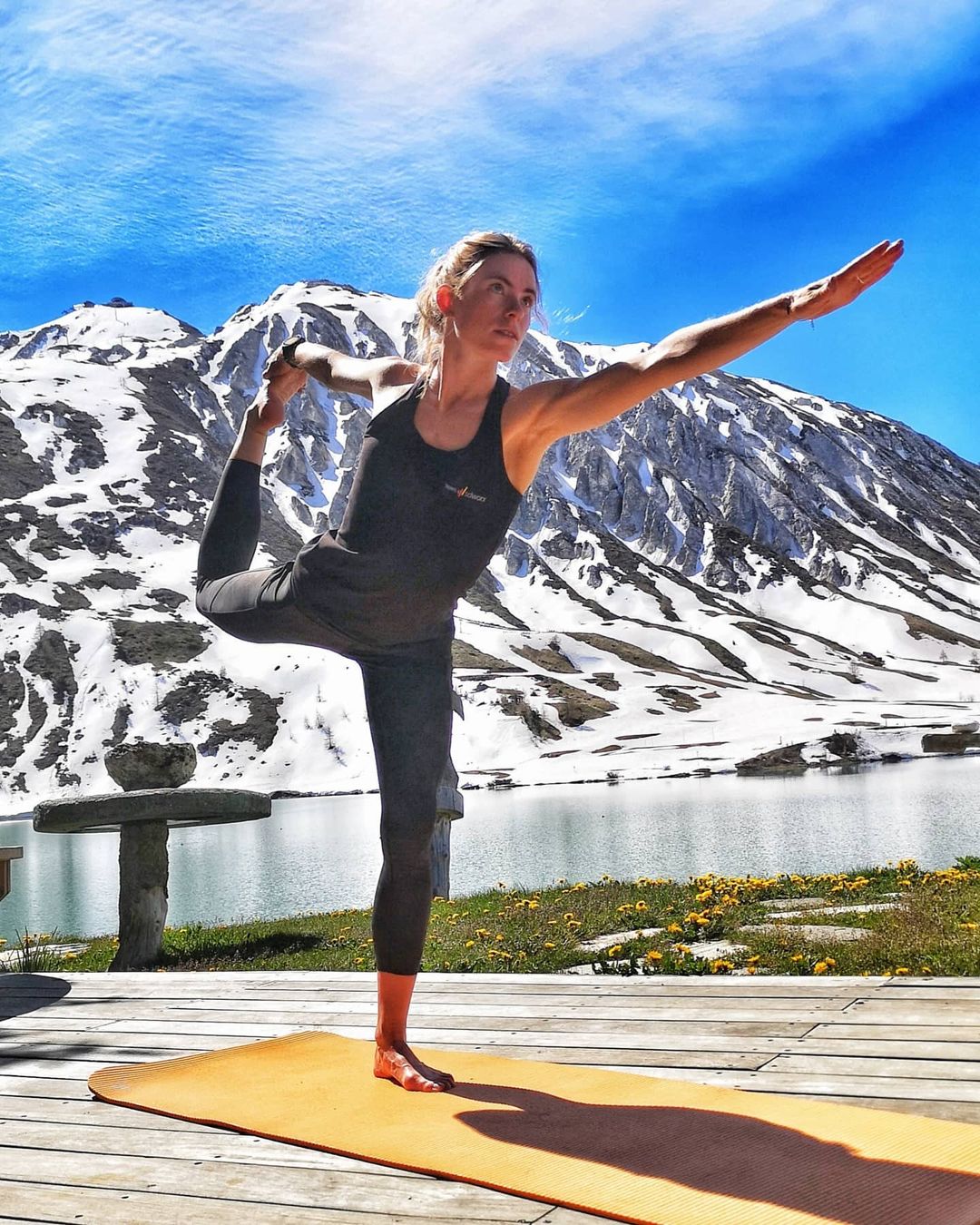 The arrival to SD Worx:
E.S: -On your website we have been able to read that when your pass to SD Worx was forged, Anna van der Breggen and Chantal Blaak came to your house to convince you. What words did they say to you for it?
D.V: -"Yes I was in that time in Switzerland, and Danny (Sports Director Danny Stam) really wanted to meet in real so that was what we did. They came on their way to altitude camp true Switzerland, so we meet each other in Swiss. It was a nice conversation and I felt really comfortable and welcome already. I did knew Anna and Chantal already from the races with the selection but that they came with Danny and Erwin (General Manager Erwin Janssen) showed me that they both wanted to make me better when they stopped and that was something what I was really interested in, I can learn so much from both!"
E.S: -Do you feel an added pressure, as some media see you as the natural successor to Anna van der Breggen?
D.V: -"I didn't really feel it as a pressure, I see it more as a really big compliment. I am still not as good as Anna but if I can win some day that much races and also can help team mates win races, than I will sign for that!"
E.S: -And what aspects of Anna van der Breggen do you admire or can you highlight?
D.V: -"Anna is really relaxed and calm. Even for a TT she is always really relaxed or when something happens what let me stress a bit Anna is always easy, and that is a really important thing. Because stress cost lots of energy, and most of the time it doesn't make any sense to stress because you are in a hurry for a TT, so that is something I try to do now to, to stress less and relax more!"
Future goals:
E.S: -There are 2 great races, pretty tough and very different from each other, such as the first Paris-Roubaix in history (10/2/21) and the return of the Tour de France (24-31/ 7/22). It would be a dream for you to be able to add them to your honours?
D.V: -"Yes! Especially The Tour! Paris-Roubaix is maybe not a race for me, maybe I am a bit to light for that race, this is more a race for the strong classics riders. That's why I probably don't race this race this year, but who knows in the future, because I really want to race it! By the men you see also riders who more ride the 1 days races, the classic ones and the stage racers and climbers. By the women you see that less, because we used to race all, but with the coming of many more races I think you will see this coming more by the women's too"
E.S: -Finally, perhaps the most difficult question to answer. What could be the secret that there are such good and top WE cyclists in your country NL with new talents emerge, as is your case, continuously?
D.V: -"I don't know. I think the mentality from Dutch women's is an important fact. We know what we want and we work hard for it, but also because it's so normal to ride a bike in Holland. As a child it's the beginning of your life almost when you can ride a bike. Later on you go to school by bike, and we also have a lot of cycling clubs, although I worried a bit about this because of Covid-19. It is less that children can race bike races, not much is organized for young ages now, and that is a shame. Hopefully all kids have plenty of races again to race!"
Demi Vollering 

Pro Cyclist Team SD Worx & National Dutch Team
References: For pictures and other content, follow Demi Vollering on Instagram or visit the website www.demivollering.com